Norman Rockwell is one of the worlds most recognized painters, but he isn't considered a fine artist.  Like
Mary Azarian
, he worked as an illustrator.   His magazine covers beautifully captured an ideal America full of potential through 7 decades of peace, war and change.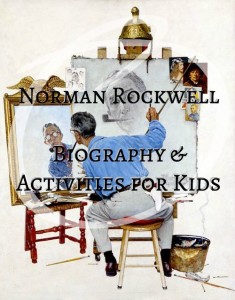 Can you raise your eyebrows?  How high?  This measurement is important if you are going to study Norman Rockwell, so go ahead and try it in front of the mirror.  If you can get them to go 1/2 way up your forehead, then your expressive face just might qualify you as one of Rockwell's models.
Happiness, sadness, surprise, all of these universal emotions are conveyed with the eyebrows, and Rockwell loved to exagerate these expressions.  Norman Rockwell worked to make hope visible, but he didn't have a very hopeful start.  As a child Norman was a terrible student.  Luckily his teachers were very understanding and allowed him to cover blackboards with murals rather than expelling him.  At age 15 Norman entered art school, and quickly proved his worth.
By age 22 Rockwell had sold 3 covers to the Saturday Evening Post.  This was a big break.  Illustrators at that time were celebrities, and being featured on a cover was a high honor.   As he sold more and more covers to the Post, which was delivered to millions of people 52 times per year, Rockwell quickly became one of the most beloved artist in the world.
He was extremely patriotic, and joined the navy during WWI, but was discharged for "ineptitude."  Despite this failure, he did succeed in creating many portraits of his supervisors, and his return to the Post was welcomed.
Rockwell didn't exclusively work for the Post.  He painted for Popular Science, The Country Gentleman, and many others.  His covers for the Boy Scout magazine, Boys Life, were particularly beloved, and he was generous enough to ask for little compensation for these. Each publisher each placed constraints on his work due to their printing requirements.  His artwork had to be vertical, seasonal, acceptable to a large audience, and utilize only the colors in which the presses were working at that time.
During the great Depression Rockwell's work continued to grow in popularity due to its focus on hopeful topics.  It was hung on the walls of many homes in place of art.
WWII again brought out Rockwell's patriotism.  He volunteered to help with war posters but turned down.  The government said they were only using "real" artist, which must have been quite an insult to this hardworking painter.  Instead of becoming bitter, he told about the war for the covers of the Post through the eyes of those who remained home and innocent new recruits.
Despite his reputation for focusing exclusively on the "bright side" Rockwell intentionally tackled challenging topics such as refugees and the fight for civil rights.  His Thanksgiving images were always particularly touching.  I've always been challenged by this one the most.  Take a look at her shoes.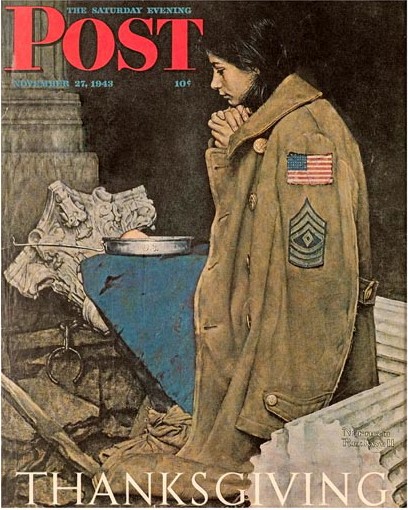 Ready to expand on what you have learned?
Watch
The life of Norman Rockwell is very well documented.  I particularly enjoyed this documentary but you can loose yourself in the land of Google as you research this master illustrator.
Learn more about Rockwell's painting of Rosie the Riveter in this video
Create
Visit
There are quite a few museums that house collections of Rockwell's art.  My favorite are in Massachusetts, and in Vermont.  Take your pick!
If you can't get there in person, enjoy this virtual tour from the comfort of your own home.
Online Norman Rockwell Activities
Print the wordsearch and test your knowledge of Norman Rockwell
Rockwell's fans loved to point out when he made mistakes in his magazine covers.  He enjoyed these interactions and for several years created April Fools Day covers filled with mistakes for them to discover.  How many errors can you find?
Norman Rockwell thought about and sketched his work "The Gossips" for 20 years before coming up with his final design which included himself and his wife at the end.  Why do you think he felt so strongly about this particular topic?
Try gathering your family and playing a game of telephone.  What lessons can you learn about gossip?
Discuss Proverbs 21:23 "Whoever keeps his mouth and his tongue, keeps himself out of trouble."

ESV  

Do you think this is good advice?
Norman Rockwell Biography and Activities for Kids