Our crew always chooses a theme to study over the summer – our learning adventure.  Sometimes it is a book, and sometimes it is a project that captures our imagination. This year we chose to learn all about how our bodies work with Apologia's Exploring Creation series.  (side note: the audio-book format is what won the kids over – they love listening to books in the car).
Unlike the other themes that the kids have chosen, this one seemed a bit more difficult to make "fun."  We scheduled time for hands-on experiments with friends (the "germ-detector" kit and blood typing are our favorites) and planned visits to the local science museums, but that's not much of an adventure.  It is just plain school.
When my son asked for me to download some new apps, I found the adventure piece we had been missing.  Apps naturally encourage my kids to set goals for themselves and challenge their friends to learn more, and working to finish a chapter so that you can get a  reward is much more fun than simply plowing through. That sounds like fun to me!  (shh… don't tell them that most of their rewards are free)
Now we have fun weekly surprises to look forward to.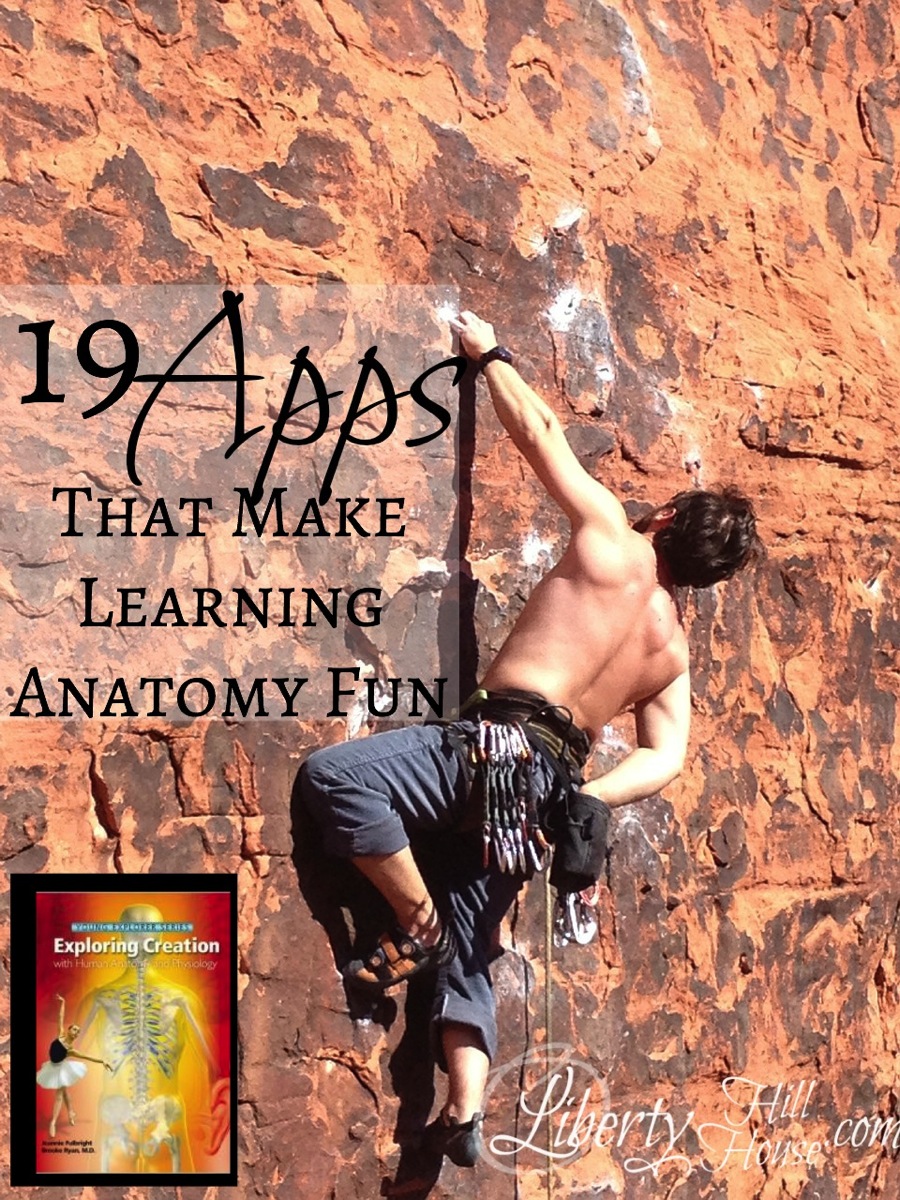 So, off on the pursuit of the best Human Anatomy and Physiology apps I went.  There are a lot out there.  Most seem to be targeted to medical students, and contained far too much detail for my kids, but I didn't wan't them to be too basic either.  It was a process of narrowing down the best of the best.  Here is what I've decided to use:
Chapter 1 – Cells
Hudson Alpha iCell *FREE* – Interactive images of various cells with labeled parts and explanations.
Chapter 2 – Bones
 Essential Skeleton *FREE* – Provides information on each bone, and allows you to observe each bone independently as well as from various angles.
Chapter 3 – Muscles
Chapter 4 – Digestion
Science Heroes: Digestive System *FREE*  – An interactive adventure through the twists and turns of the digestive tract. Players have to make sure the different phases of digestion, from the mechanical and chemical breakdown of food to the absorption and reabsorption of nutrients, are working properly. .
Human Body Detectives: The Lucky Escape $1.99 – K

id-friendly story that is both educational and exciting
Chapter 5 – Nutrition
Smash Your Food $1.99 – Find out what kind of nutrition or dangers are inside your food by destroying it
Chapter 6  – Respiration
My Incredible Body $4.99 – Medically accurate images with lots of detail – Lots of fun "rides" and interactive models.  In-app purchases allow you to add additional systems.
Chapter 7 – Blood
Chapter 8 – Heart
Explore the Heart 3D *FREE* – An immersive learning experience. Learn about the structure and functions of human heart with audio and interactive features.
Chapter 9 – Nerves
The Human Body $3.99 – Visually explains how body systems work including how the nerves carry information
Chapter 10 – Brain
Brain Train *FREE*  – Seems simple, simply choose the item with a brain, but higher levels challenge players to remember facts like whether a duck or squirrel can allow only half of their brain to sleep.
3D Brain *FREE* – Rotate and zoom around 29 interactive structures. Discover how each brain region functions, what happens when it is injured, and how it is involved in mental illness.
Chapter 11 – Senses
Sound Uncovered *FREE* – Beyond the ordinary senses app.  Demonstrates the basic principles of sound and how important it is in our life through clever interaction.
Color Uncovered *FREE*  Learn about aspects of our sight that most people don't consider.
Chapter 12 – Skin
Dr. Seuss Inside your Outside $5.99 – Follow the Cat in the Hat as he delves inside the human body (this one is obviously a special treat for my 6 year old, not the big kids)
Anatomy 3D Pro 6.99 Anatomical models that are rich and detailed, searchable by system and body part, with plenty of detailed information and interaction.
Chapter 13 – Sickness
Solve the Outbreak *FREE* – Solve the Outbreak lets the players try to contain an epidemic.  Created by the Centers for Disease Control.
Human Body Detectives: Battle with the Bugs $2.99 – An imaginative adventure through the immune system.  Characters befriend a white blood cell warrior who leads them into battle against the offending bacteria.
Chapter 14 – Development
The Miracle of Life $1.99 Interactive illustrations, games, and animation clips, focused on the human body's cycle of life. In a fun and entertaining manner, it explains the secrets of fertilization, gestation, and human growth.
With our new plan, Apologia's Exploring Creation through Human Anatomy and Physiology will be interactive, and that is the one thing I really wanted to build upon.  The kids are looking forward earning their new apps.  They are curious and excited to begin their summer learning adventure.
Don't miss out on updates of our fun project!
19 Apps that make learning Human Anatomy Fun