Five in a Row is one of the tried-and-true materials that our homeschool comes back to over and over again.  It is so simple to use, and just so cozy to implement that nothing can compare.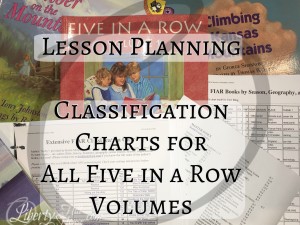 The best part about FIAR is that you don't need to plan.  You can just grab your manual and the picture book of the week and go.
But (you knew that was coming, right?)
I'm a type-A person.  I can't help but add to it.  I love planning all sorts of fun Pinterest-y crafts and season-specific outings to go along with my kids lessons.  Thankfully, there are others who are just as organized, and just as passionate about this curriculum.  The hard work of the members of the Five in a Row forum has resulted in hundreds of pages of cross references.  Lists of books by country?  We have that.  Five in a Row math resources?  Yup, someone's done that too.  (By the way if you are planning to use this material and aren't yet a member of the FIAR forum, I highly encourage you to at least visit.  It is free, and the support and resources available there are fantastic.)  These "official" planning resources were formerly hosted by Forum member Kendra over at the Aussie Pumpkin Patch (another great resource) but a change in focus at her site left the classification charts homeless.  Thankfully she contacted me and I'm thrilled to give them a new home.
So, ready to plan?  There are 3 separate FREE documents, each with their own advantages.    The newest feature added to all of them is that the FIAR charts are now SEARCHABLE – no more manually scanning for the details you want.
Have fun planning!
FIAR Classification Chart #1
The easiest document to use – arranged by season and country
FIAR by Seasons, Geography, Themes by Liberty on Scribd
Not sure how to download?  Here are complete instructions – Scribd is a safe source, so don't hesitate to click the download (arrow) button.
FIAR Classification Chart #2
The most complete reference document – arranged by academic subject (art, Language Arts, Math etc.)
Extensive FIAR Classification Chart by Liberty on Scribd
FIAR Classification Chart #3
The best resource for Volume 4 – arranged by academic subject
Volume 4 Master Index by Liberty on Scribd
Let me know if you have any information to add, or questions about the existing documents.  I'm always happy to help.
Sheryl
Five in a Row Classification Charts