As year-round homeschoolers, we always have lessons to get done, but that doesn't mean that we don't take the time to enjoy our summers.  The end of the school year means that lots of opportunities open up for our family to get together with friends and enjoy ourselves.  That also means that we have more opportunities to spend ourselves blind.  (Have you seen how much water parks cost?!?)
This year I took the time to gather a list of free places to go so that my wallet won't take a hit when we get together with friends.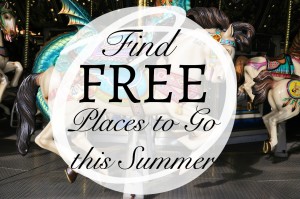 If you are struggling with coming up with fun ideas for the summer take a look!  I have found hundreds (yes really, hundreds!) of free destinations to enjoy – far more than my family could ever hope to visit in just one summer.
Check with your credit card
Bank of America's  Free Museums on Us program offers free admission with your credit or debit card on the 1st weekend of every month.
Take a Factory Tour
Many factory tours are free (and some even offer free samples) Check what your state has to offer.
Ask your local library
Many offer free or discounted museum passes with your library membership.  These are often a fantastic deal.
Visit a National or State Park
Our nation is blessed to have an amazing collection of parks, and even parks offer free days!  Do you have any local treasures you haven't explored yet? Lace up your hiking shoes and enjoy the beauty!
Go bowling
Okay, when was the last time you went bowling?  It was good clean fun, right?  Kids Bowl Free offers children two free games every day.
Go to the movies
Sometimes the sunshine and walking about are too much and we need to escape indoors for some rest.  Free Summer Movies are always a great way to relax and enjoy time together.
Make your own free event
We decided to turn all of the many Summer reading programs into an event in and of itself.  After the kids have read their books and filled out each of the book forms, we spend a day driving from one location to another, listening to an audiobook, gathering our free books and gift cards, eating yummy food, and celebrating their accomplishments.
Participate in Free Museum Day
Almost every state has museums participating this September.  Put it on your calendar now!
Learn what is Free Year Round
Many museums are actually free year round, take a look to see what your state has to offer.
Cultural Events
I live in New England, so these are my favorite local lists, but check with your own state's website – many have similar programs.  There is always something new to explore, and luckily, it doesn't need to be terribly expensive. Seize opportunities and enjoy the lazy days of summer, without breaking the bank!
In the spirit of celebrating all things free, our family is planning a trip to Washington DC this fall.  We are planning to enjoy not only the free Smithsonian museums, but the national zoo, gardens, and many more free attractions.  My current plan is to squirrel away enough credit card points, restaurant promotions, and gas cards that we can take the trip for practically nothing (This is the only link for which I am an affiliate in this post, but I'd recommend it even without compensation because this book is the go-to guide for inexpensive travel).  Subscribe to see if we can actually pull it off.  Wish me luck!

Find FREE Places to Go this Summer