Grandma Moses is famous for her American folk art, but did you know that she is also noroious for her use of glitter?  Grandma Moses loved glitter so much that she kept right on using it even after she was told that it ruined her work.    She thought it added just the right sparkle to the paint in her winter scenes.  The art critics?  Well, they were predictably scandalized and unsettled by her choice, and that makes me love Grandma Moses just a little bit more.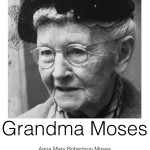 Evolution of Grandma Moses' Work
Anna Mary Robertson Moses (1860 – 1961) was born at a time when women's primary work was at home.  Any extra time was spent sewing, quilting, rug-hooking, and doing embroidery to sell at county fairs, so it is natural that Grandma Moses' first work was in textiles.  (Her jam received more prizes than her artwork in those days.)  She painted only as needed for her household.  For example, when she ran out of wallpaper in 1918, she covered the fire-board with a decorative landscape scene.
After the death of her husband in 1927, and with her increasing age, Grandma Moses traded in her sewing needle for a paint brush.  Her daughter in law convinced her to begin showing work at Thomas drug store, and 1938 Louis Caldor saw her work there, bought several, and tracked her down to convince her to market her work, and herself better.
The marketing worked, and she was soon showing her work in places like the Museum of Modern Art in New York City.  This was at the time when the country was recovering from the Great Depression, and people were thrilled to see Grandma Moses simple landscapes as the backdrop for the "old time virtues" of farm life, hard work, family, church, and community.
Grandma Moses might just be best loved because she not only painted simplistically, but because she lived the image she portrayed, a simple farm wife.
Consider:
Grandma Moses witnessed the Civil War, 2 World Wars, the Great Depression & the Industrial Revolution.  Despite all the change around her, she never changed her values. She once said:
"Well, people tell me they're proud to be seen on the street with me … but I just say, well, why weren't you proud to be seen with me before."
Do you think you would react the same way to fame?
Online Activities:
Create: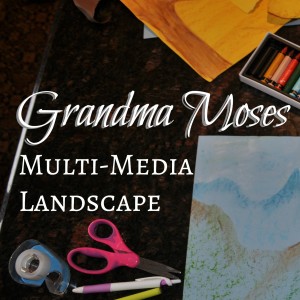 For this project you will need:
Tru Ray Acid Free Construction Paper – 12"x18" – several pieces of various colors
Reeves Water Soluble Wax Pastels – (also sold as watercolor crayons)
Red ink pad – can be shared
Paintbrush
Wool roving – .1oz (basically, just any scraps you have around)
1 glue stick or bottle of glue – can be shared
1 pair Scissors
1 extra small container with lid
To learn about more great art projects inspired by Master Artists as soon as they are posted, subscribe!

Grandma Moses, glitter lover – Landscape Project for kids