Expressionist and founder of Der Blaue Reiter group, Franz Marc was a key figure in the art world despite his early death.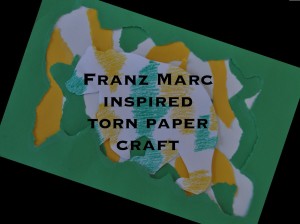 Marc was born to a father who was a  landscape painter, but rather than go directly into art, he followed his mother's Calvinist leanings and went to school for theology. He was required to withdraw for standard military service, and never went back.  Instead he changed direction and decided to follow his father into the world of art.
Marc's early works were mostly academic and very naturalistic, and nearly all depict animals.  As time passed he kept the animal theme, but moved into Expressionism – in this style of artwork objects can be identified, but they are slightly changed to communicate more meaning than the subject itself expresses.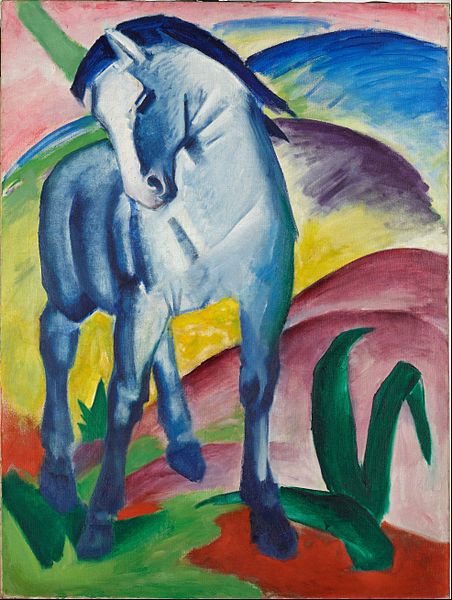 Marc went through a deep depression from 1904 to 1907, breaking off an engagement, withdrawing socially, and suffering greatly.  In 1907 he traveled to Paris, where he was greatly encouraged by the work of the Cubists, and the Expressionists
Art careers aren't started quickly.  Marc's first steady income in the art world wasn't from his work, but from the animal-anatomy lessons he gave to artists. 
The year 1910 marked a significant turning point at which Marc met the collector Bernard Koehler who liked his work, and offered him monthly payment.  This freed Marc to focus his time on thinking about and creating his own artwork.    In December 1910 he wrote his now famous letter to Macke, assigning emotional values to colours:
"Blue is the male principle, astringent and spiritual. Yellow is the female principle, gentle, gay and spiritual. Red is matter, brutal and heavy and always the colour to be opposed and overcome by the other two."
Formerly so depressed, Marc had now become a leader of the Blue Rider group with Wassily Kandinsky and Paul Klee.  They became his close companions with whom he could exchange artistic ideas and inspiration. His artistic output exploded, both in quality and in quantity, and his art became increasingly abstract.
When World War I broke out, Marc volunteered for German military service.  He believed that the war would be a purification of our earth which had been spoiled by civilization.  During the war, he produced his Sketchbook from the Field with drawings for the paintings he would create as soon as he was free to do so.  

Sadly, Germany made a list of important artists to pull from combat for safety, but before the re-assignment orders could reach Marc, he was hit in the head with a shell fragment and died at the age 36.
I wonder what Marc would have painted after the war if had he lived.  Would have still been nature focused?  Or, would it have been more like this piece on which he wrote on the back  "and all is being flaming agony."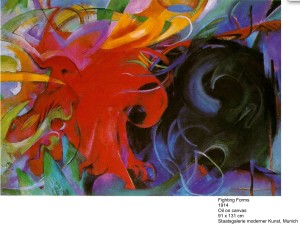 {Some of the links below are to affiliate account.  As always, I only recommend products that we have used and loved. Should you choose to purchase an item through these links I may receive a small compensation, at no cost to you. – Thank you for your support!}
Consider Franz Marc's thoughts:
Franz Marc's work is filled with hidden meaning.  Read through several of Aesop's Fables at aesopfable.com and discuss the meanings.  Can you match any of Marc's paintings (available at the Guggenheim online) to the stories?
Marc looked for spiritual truth through art.  He said only animals were worthy of living in paradise.  Do you believe this to be true?  Read John 3:16.  Are animals capable of belief?
Learn more about the Blue Rider group in The Blue Rider: The Yellow Cow Sees the World in Blue.   "The painters of the "Blue Rider" turned the worlds of form and colour upside down to give expression to their feelings, ideas and dreams."
Create a Franz Marc inspired project:
You will need:
3 sheets Tru Ray Acid Free Construction Paper (1 white, 2 color of choice) – 12"x18"
Prang crayons, one 8 color set – need: 1 set per student
1  glue stick (check to make sure yours is still full, we will be using this a lot) – can be shared
1 pair Scissors – need 1 per student
1 piece of scrap paper
Outline of any animal.  We used one from 9ColoringPages.com and I intentionally printed it very lightly so that it wouldn't show through on the opposite side
Franz Marc Torn Paper Lesson