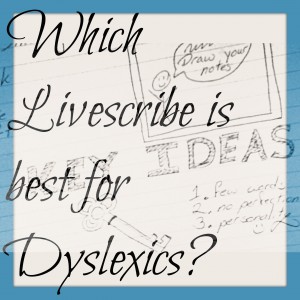 A very patient reader reminded me that I promised a review of the Livescribe e-pen in my Alternative Note Taking post a bit ago and failed to follow through.  I love that she called me on it! – I had every intention of posting this, yet it sat in my drafts folder for over a month.  Accountability is a good thing so please, keep me on my toes.
First, let me just state that this is not a sponsored post.  I am not being compensated in any way by Livescribe.  I want you to be aware, however, that the links posted below, like most product links on this site, are Amazon affiliate links.  Should you choose to click through, I receive a small Amazon credit, at no cost to you.  
The short version: We love our Livescribe!  It is fantastic and works exactly as magically as I hoped; making paper notes interactive, so that my daughter can touch any point on her paper and listen to exactly what her professor was saying at that moment.
Rather than prattle on sharing the features of the pen, I'll leave that to the many other tech-gurus out there, and focus instead on why we chose to purchase an older model pen rather than the newest Livescribe for my dyslexic daughter.
Why we didn't pick Livescribe 3
The newest Livescribe pen doesn't have a built in microphone to record sound – instead you need to link it to an iPad or iPhone.  Sure most of us have these devices on us at all times, but juggling multiple devices on a desk-top can be rather cumbersome.  Also, in reviews there were a lot of complaints about loosing audio files via the wireless sync.  Most disappointingly, you can not replay information directly from the pen.  This is the one feature that my dyslexic was most excited about, so the 3 was quickly ruled out.
Why we didn't pick the Livescribe Sky
For this version, Livescribe partnered with Evernote, a program I love.  I thought at first that it would be an amazing match, however there were many disadvantages to hosting all of your notes exclusively in the cloud, not the least of which was inaccessibility when working away from wifi.  The Sky offered no desktop programs at all, and paying for premium Evernote service isn't something in the budget right now.  Again, there were multiple reports of problems with transferring files via wifi, and in general, reviewers claimed that this version was more "glitchy" than previous models.
So, what did we pick?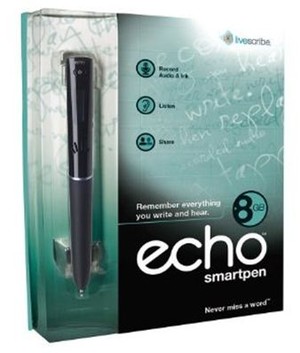 Livescribe Echo.  Yes, it is technically older technology, but I'm happy with the decision, especially after seeing another student fumbling to fit a Livescribe, notebook, and iPad all on her desk.   We bought the Echo with largest amount of storage, 8gb, and I'm very happy with that choice.  My dyslexic can quickly and easily flip through her notes from months worth of classes in bed or while riding in the car with just the pen and paper.  No computer necessary.
We can store data directly on the pen, on the desktop, or export files to Evernote (again, I really do love Evernote) if we choose, and she can access that information with or without wifi service.
So, what do I wish was different with the Echo?  Not much.  Sure, it would be nice to have the ability to type notes alongside the handwritten ones, but in general, this pen's primary function isn't going to be document creation. It is for taking in data, recalling it, and reviewing it so that the information moves into long term memory.
Every student is different, and what works best for us may not be best for you, so do your homework before purchasing.  Make sure that the smart pen you pick has all of the features you need.  If you'd like to see all of the Livescribe smart pen features compared, check out this chart.  I found it to be extremely helpful when making my decision.
Blessings!

Which Livescribe for Dyslexic Students?