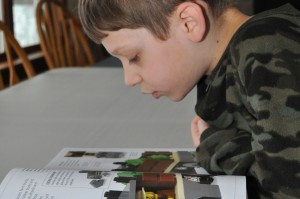 When one of your kids struggles with reading, the whole world seems to slow down.  It can feel as if you need to drop everything else and focus only on their learning struggles because, as we all know, cracks in the foundation will lead to confusion with larger concepts later on.  Study harder! Study longer! Study more!   Unfortunately, the pressure to learn, added to a learning disability can easily lead to discouragement.
I hate seeing my kids discouraged.
Since the moment that I found out that my daughter has dyslexia I have been working to make her job of learning more fun and engaging.
One of the ways we have been able to do this is to allow her to use our iPad.  Her apps are stored in a special tab marked "Dyslexia" and she is the only child allowed to play with these games.  This has created a bit of  *mystique* around them, and the other two often sit on the arm of her chair just trying to get a peek at what she is doing.
Here are our favorite:
Dyslexia Phonics Apps.
Spell Trekking – https://itunes.apple.com/us/app/spell-trekking/id547625622?mt=8 – This is our newest app.  It helps with fluency (recalling the sounds quickly).  Very organized presentation of words so that struggling learners don't get discouraged.
Montessori Crosswords – https://itunes.apple.com/us/app/montessori-crosswords-spelling/id384334005?mt=8 –  Helps with assembling sounds into words.  I like that the letters are all sound-enabled, which helps with memorizing.  I also like that parents can select the difficulty of the words.
Dyslexia Memory Apps. 
One of the biggest mistakes when teaching a dyslexic child is to focus only on phonetic recognition.  Reading is really much more than just knowing letter sounds, including auditory and visual memory.  Here are a few that we have found most helpful.
Dyslexia Quest – https://itunes.apple.com/us/app/dyslexia-quest/id448166369?mt=8 –  This one is our favorite.  It is very silly and goes beyond the usual phonics-only reading instruction by working with a wide variety of the many memory and speed issues that are often part of dyslexia.  Ignore the remediation recommendations in the parents notes though, they are not really that accurate.
Hop Frog Hop – https://itunes.apple.com/ca/app/tvokids-hop-frog-hop/id518692000?mt=8 –  A fun way to practice visual working memory skills.  Simple and rewarding.
Ribbit Frog Ribbit – https://itunes.apple.com/us/app/tvokids-ribbit-frog-ribbit/id516337168?mt=8 –  The auditory version of the previous game.  I love having both because, although they seem similar, they work very different parts of the brain.
Fun with Directions Lite – https://itunes.apple.com/us/app/fun-with-directions-hd-lite/id478249055?mt=8 –  Another memory game. This one specifically targets retaining increasingly longer strings of instructions.  (Necessary for reading silent e words etc. where pronunciation clues are not placed in left to right order)
Of course, we are working diligently through the Barton Reading and Spelling Program (if you haven't yet used an Orton Gillingham system with your dyslexic child, please take a look, it is amazingly different from the average reading program) and with a tutor, but these apps are what make my daughter enjoy her time studying.
The only way to get better at anything is to do it ~ over and over again.  Having a fun way to practice makes all the difference in the world.
Little by little, those tiny bits of practice will add up to a lot.

Dyslexia Apps – More Than Just Phonics