Creating special traditions is one of my favorite parts of being a parent.
When I think back to being a kid, it is the rituals, not the gifts, that created the heart of Christmas.  I remember lying under the Christmas tree and looking up at the lights, dressing up for church, watching the Grinch on TV with my sisters, and the crazy wrapping jobs that my dad was famous for (duct tape and string are MUCH more fun than wrapping paper.)
The good news is that it doesn't take much to make something special, especially around the holidays.  One of the easiest traditions has to be Christmas stories.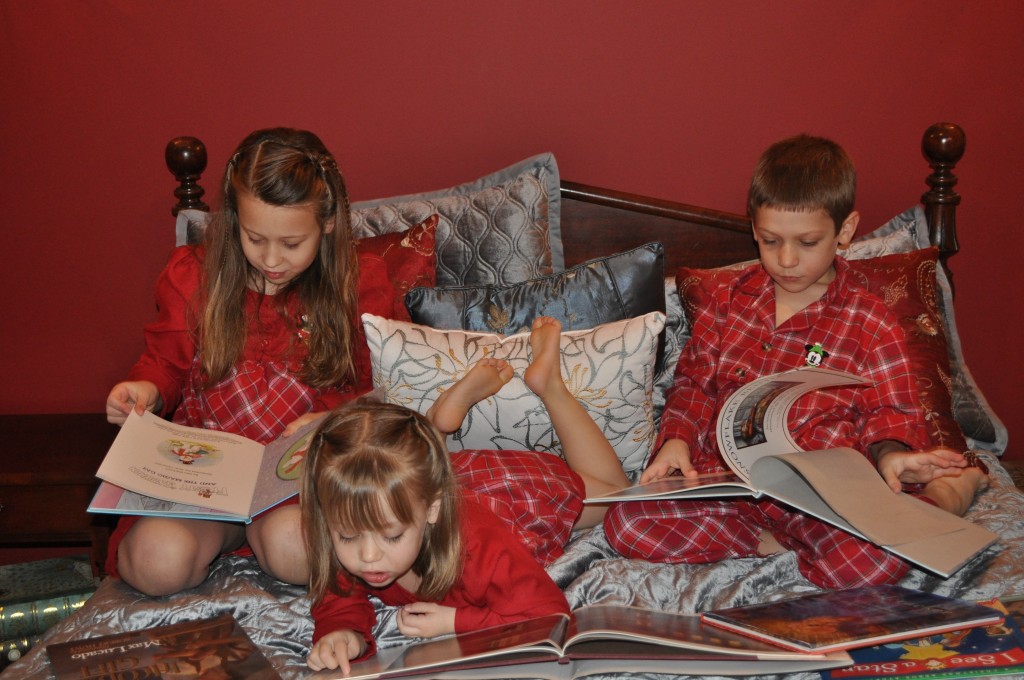 On December 1st every year I pull out our giant bin of holiday books.  The kids quickly pick out their favorites, exclaiming excitedly over forgotten treasures, and we spend the afternoon happily reading together.  From that night until 12th Night (Jan. 6th, the night we officially end our Christmas celebration) we read at least one Christmas story before bed each night.
It is really hard to narrow down the list, but here is my best attempt.
Our absolute favorites Christmas books:
Jotham's Journey by Arnold Ytreeide (well, the entire series, really).  This is an advent adventure, intended to be read just one chapter per day.  It follows a fictional shepherd boy at the time of Jesus' birth.

The Christmas Miracle of Jonathan Toomey by Susan Wojciechowski.  My oldest always asks for this story first every year because she simply adores the illustrations.  It is a sweet tale of a heartbroken wood carver who softens as he carves a nativity scene for a widow and her son.
Jacob's Gift by Max Lucado.  This is another book notable for it's beautiful illustrations.  It teaches the story of selfless giving, with the words" When you give a gift to one of God's children, you give a gift to God."
The Tailor of Gloucester by Beatrix Potter.  Yes, this really is a Christmas story, and a (kinda') true one too. Potter, one of my favorite authors, creates a magical story around a sick tailor who must finish a new suit for the mayor by Christmas morning.
The Night Before Christmas by Clement Clarke Moore We have several different versions of this story, but our favorite is illustrated by Bruce Whatley. This is the Christmas tradition of all traditions, and it must be read every Christmas eve.
A Little House Christmas by Laura Ingalls Wilder  This is a compilation of the Christmas scenes in the Little House series.  We have had such a fun time reading through all of the books, and these stories of simplicity and gratefulness are some of the sweetest.
Enjoy making memories this Christmas!

This post contains affiliate links.
Best Christmas Stories for Kids